A Better-For-The-Earth Alternative to Wrapping Paper
Scissors + tape not required.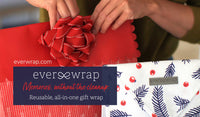 Do you ask for it back?
EverWrap is a women-owned reusable gift wrap company that wants to put a twist on traditional gift giving and wrapping. We have a wonderful collection of reusable gift bags, boxes, and bows that will add a special touch to your gift. Plus, our bags and boxes are self-closing, foldable, and sustainable. We are proud to be a sustainable gift wrap business that has various eco-friendly bags and boxes for birthdays, Christmas, and Mother's Day—or just because. Reusable doesn't mean YOU have to reuse it - it's always good to make a better-for-the-Earth choice. When using within your home, you get to enjoy the reusability the most. Also, the gift recipient will appreciate the high-quality and unique packaging. Shop our website to find out more about our reusable gift wrap company.